N A M E:
Arizona Skye Jo
(a.k.a. Skye)
N I C K N A M E S:
Jo || Gravy || Cowgirl || Ari || S.J.
G E N D E R:
Female || Gal || Cowgirl
A G E:
Almost 3 years
B R E E D:
Timber Wolf + ?
R A N K:
Lieutenant
D E S I R E D - R A N K:
(town) Sheriff
P A C K:
TFP || True Freedom Pack



E Y E - C O L O R:
Azure/cyan
F U R - C O L O R:
A desert Sandy hue / Gold Tan
F U R - T E X T U R E:
Soft and thick during winter, and it becomes thinner and longer during warmer seasons, yet it always remains naturally soft and smooth.
M A R K I N G S:
She has 3 slashes on her lowers back, a slash-band marking that runs horizontally on her shoulder, and her ears are tipped with a darker shade of her actual fur color. (see reference below)
B U I L D:
Very feminine features, but she is amazingly strong and muscular for a female. Her muscles in her upper front legs and hind legs are very prominent and show whenever she moves. Her chest is slightly broad, but mainly because of the thickness from her fur. Her figure's line starts shaping in while moving onto her stomach. Other than that, she is lean and fit for any sort of activity. She's not the tallest female around, but she is still average height for a Timber Wolf.



P E R S O N A L I  T Y:
Arizona Skye is a very loving and caring female with a big heart. With respectful wolves, even if they're strangers, she'll treat them as family members. Just be honest, respectful, and kind with Skye, and she'll treat you the same way. Since other wolves think her as a softy because of her kindness, she can show you how well she plays rough. She holds her anger in pretty well, but it won't mean that she won't want to teach you a lesson if you behave poorly.
At times, she seems very mature and wise, but there are those moments when all she wants to do is play around. With pups, oh, don't get me started. She'll become a mother to them if she has to, and the pups' safety and health are her main priorities. Skye is overall a very kind, bold, loyal, responsible, and energetic female who only wishes to do what's right, no matter the consequences.
H I S T O R Y:
W.i.p. for now.~
L I K E S:
Pups || Soft-centered males || Honesty || Respect || Beef || Playin' Rough || Being Wild || Rollin' in Dirt || Fun || Challenges || Events || Taking care of others || Kindness || Humor
D I S L I K E S:
Rude & Mean wolves || Disrespect || Selfishness || Wolves w/out humor || Drama || Fighting
S T R E N G T H S:
Her strength || Stamina || Speed || Eye sight || Agility || Stealth || Smelling
W E A K N E  S S E S:
Hearing || Speed (this can sometimes be an issue) || Piercing Heat || Pups || Having to Help Others



F A M I L Y:
Comin' soon!~


H A B I T S :
Calling others "Darlin'" or "Doll" || Using a lot of Figure of Speech || Giving Nicknames || Lying on her back || Says "Howdy" a lot
S C E N T:
A fresh grass perfume  mixed with wild flowers & combined with the scent of new leather.
A C C E N T:
She has a deep Southern Accent
R E F E R E N C E: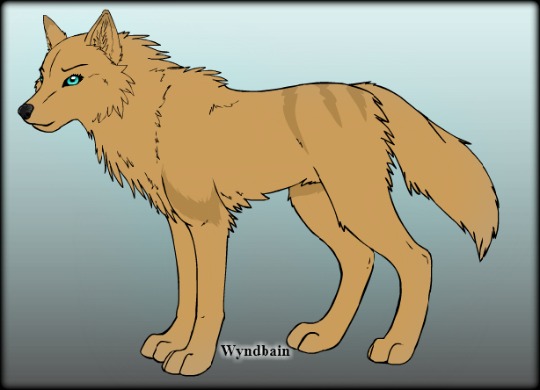 T H E M E - S O N G :
Bullet
-
By: Katy Perry
Last edited by Skye on Thu Jul 25, 2013 12:01 am; edited 1 time in total
» ▪▫▪▫▪▫▪ ₪ ▪▫▪▫▪▫▪ «
Vizier




Canid Gender

: Female


Canid Age

: 2 years, young adult


Mate

: Nope.


Crowns

: 3



Commander




Canid Gender

: Female


Canid Age

: 3-5 years, adult


Mate

: *Howls endlessly*


Crowns

: 106




---
Permissions in this forum:
You
cannot
reply to topics in this forum